Batman Miniature Game
The Batman Miniature Game (BMG) from Knight Models delivers gamers a street-level tactical miniature game set in the dark night of Gotham City's streets. Each player assembles a crew of miniatures and plays out exciting, fast-paced combat on the tabletop. This is a game where heroes bound from rooftop to rooftop, fire grapple guns, and deftly swing into an unexpecting foe!
Fear reigns in the shadows of Gotham City. It is a place of criminal masterminds, gangs of thugs, and rumors of even more terrifying things. The Gotham City Police Department stands against these things, but they do not stand alone. Batman, and other vigilantes, don their cloaks every night in the hope of bringing order back to Gotham City.
---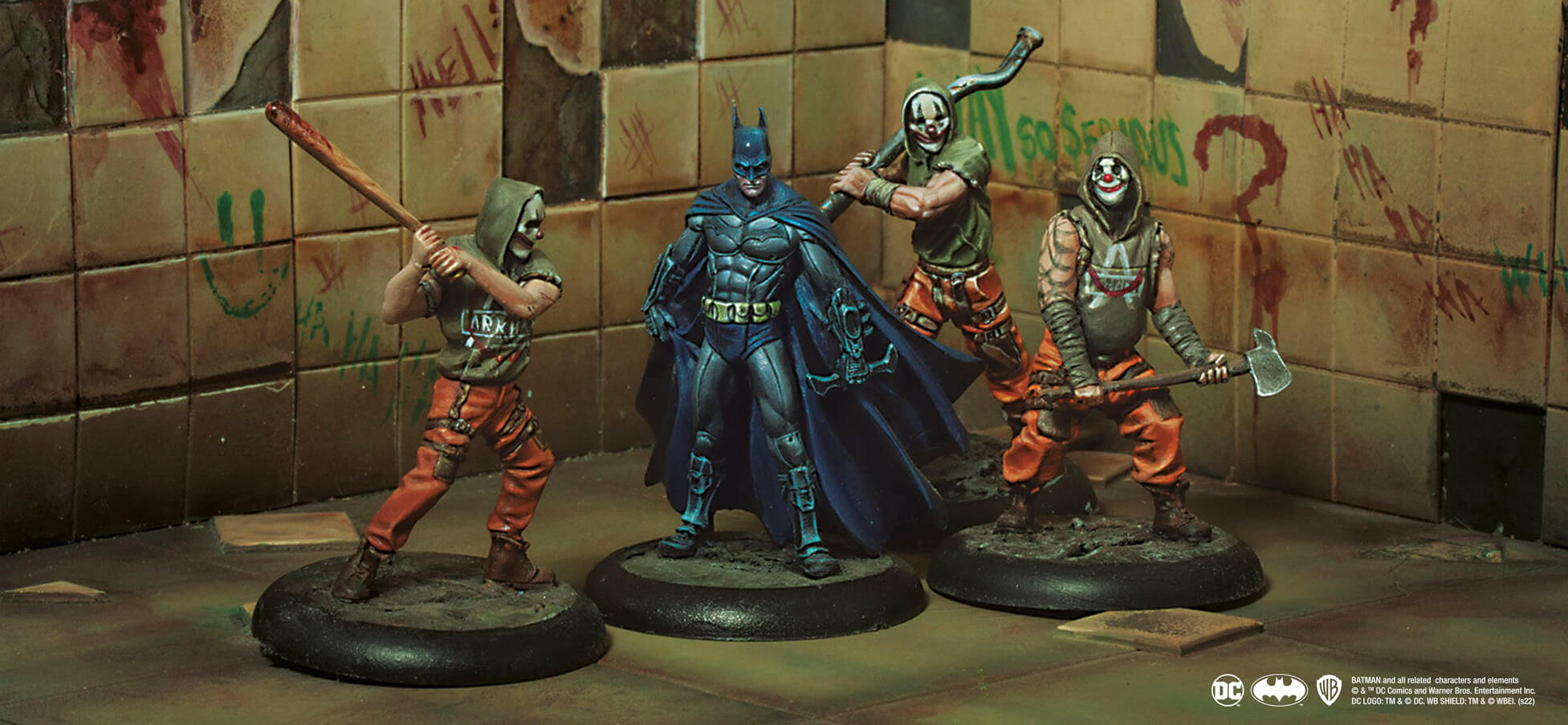 Stepping into Gotham City for the First Time
Getting into the game starts with purchasing your first models. Naturally, purchasing the two-player starter set provides the easiest starting experience. The 2-Player Starter Set includes the base rules to the game, cards, all necessary tokens, and two different crews which come complete for a full-sized game. Overall, this is the best value option to get started playing the game.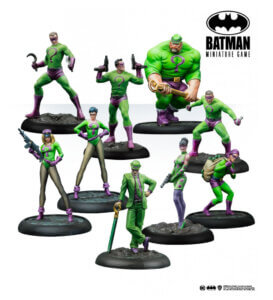 If the Starter Set crews don't interest you, Knight Models makes this easy by organizing the game into factions. Each crew is oriented around the core organizations and villains in the game. You can choose from Batman, Joker, Two-Face, Organized Crime, The League of Assassins, The Court of Owls, and so many more!
If you choose to start collecting this way, look for a Bat Box starter for the faction you are choosing. Most factions have these, and they provide a complete crew of models for a standard game. The rules and objective cards are available to you online either via the BMG App or via Knight Model's website.
---
The Miniatures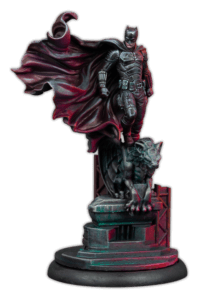 Firstly, the BMG miniatures are absolutely stunning. Although, it's important to note that they do come unassembled and unpainted. You will need to gather the appropriate tools to assemble the models. Fortunately, a good, sharp hobby knife and some super glue will be all you need for assembly!
There are a wide variety of paints available for miniatures. You don't have to paint them, of course, but it can really add a personal touch to your crew! Look for a local painting group—like the organized painting days put on by the Madison Miniature Painters at Noble Knight Games—to help you with techniques and/or any questions you have along the way!
---
The Batman Miniature Game App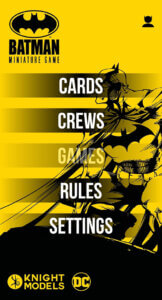 The Batman Miniature Game App makes the game easier. Available for Android and IOS, it contains the most up-to-date rules and character cards. The app provides all the character cards for both current and "Eternal" characters. "Eternal" characters are miniatures which Knight Models have discontinued and are no longer available. This allows players to continue playing even with older models!
You can also see specific traits your characters have during gameplay. This becomes very important as each character and weapon can have many unique traits. Being able to look at a character card, click on a trait, and have all the rules regarding how that trait is able to be used helps greatly to keep the gameplay flowing smoothly.
---
Your First Games
The best case scenario is to get in touch with a group of players who are currently doing organized play—like the BMG Group at Noble Knight Games! If that's not an option, don't fear! You can simply grab a friend and walk through two excellent starter scenarios together.
Designed to introduce the character cards, rules, and mechanics of the game, these scenarios make everything feel more approachable to first-timers. Your first games will take a bit longer as you learn the rules and stats of your models. Take your time and have fun while you learn the rules!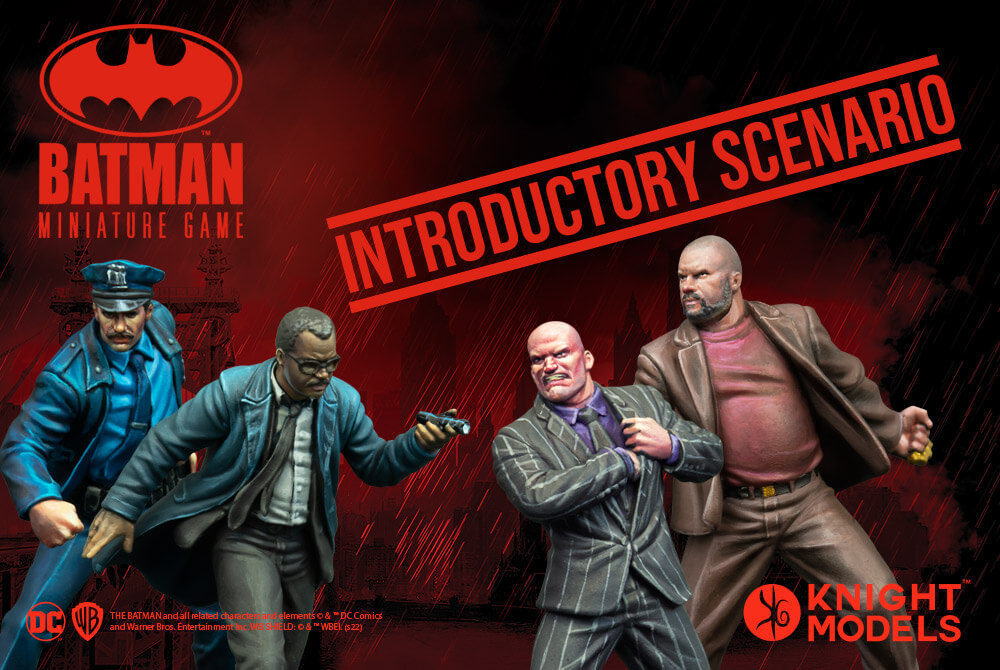 Intro Scenario 1
These introductory scenarios feature the crews from the 2-player Starter Set. Introductory Scenario 1 walks you through the basics of a character card and introduces you to traits. If you are not starting with the 2-player Starter Set, all you need to do is substitute in 3 henchmen-level characters. Each henchmen selected should not have a funding level greater than $350. The rulebook will help you understand the traits on the cards, what a henchman is, and the function of values like Reputation and Funding.

Intro Scenario 2
Introductory Scenario 2 walks you through a more advanced game. Again, this scenario is paired excellently with the 2-player Starter Set—and the movie! Will Batman and Gordon get the drop on Penguin as he picks up drops—or will Catwoman make things interesting? This scenario grants you a great, thematic way to learn the game and play out one of the pivotal scenes from the movie. By introducing new models, different sized crews, and thematic objectives, this scenario aims to prepare you for a full game.
Of course, this second scenario introduces a number of rules, and a quick reference guide can be really helpful. The team at WiscoDice—with help from the greater Batman Miniature Game community—have created a handy quick reference guide for the game, available to download for free.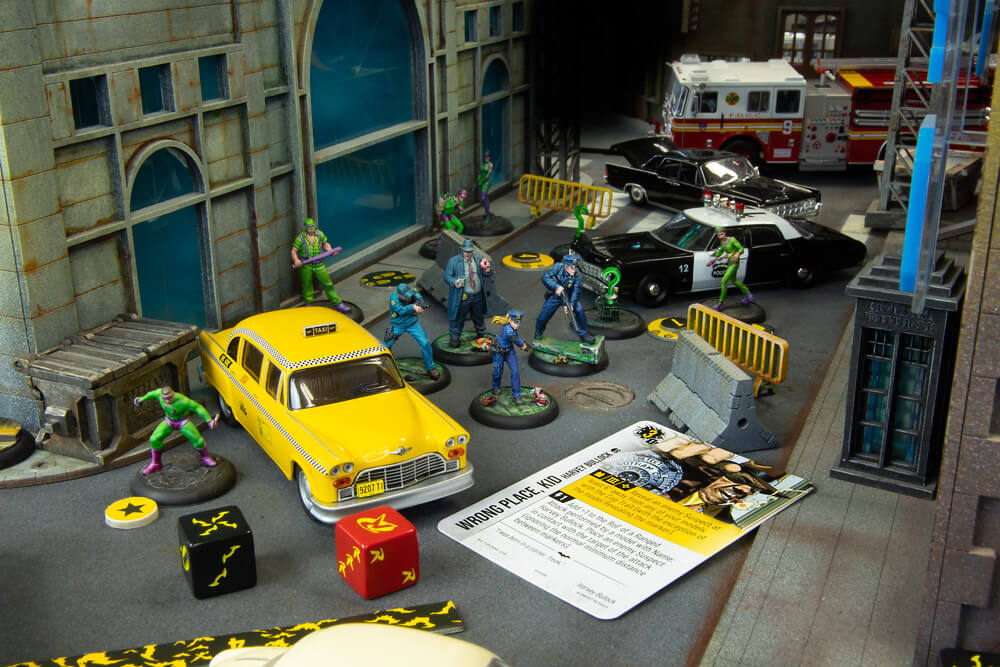 After walking through these introductory scenarios a few times, you'll be ready to learn about objective cards, crew building, and other optional rules that will help make your games more interesting and dynamic!
---
What About Batman Miniature Game Organized play?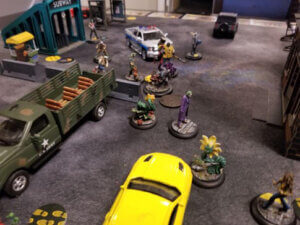 At Noble Knight Games, our Batman Miniature Game Group group hosts open play on the 2nd and 4th Monday of every month. You will also want to pay attention to the event calendar for other special Batman events including Bat-Match Tournaments, Narrative Events, Demo Days, and more!
Open play is typically 350 reputation/$1500 funding crews—however, we welcome all players. Of course, if you don't have models and would like a demo, or to check out the game, let us know on the Noble Knight Gaming Hall Community.
---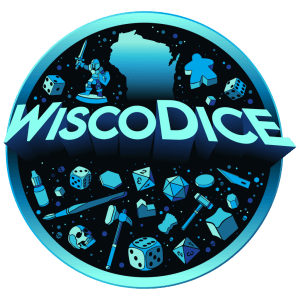 Written by Conesy – of the WiscoDice Tabletop Gaming Podcast
---
[ Browse: Our full Batman Miniature Game catalog ]
[ Weekly Event: Batman Miniature Game Group @ Noble Knight Games ]