Enter the Giant Space Hamster Miniature Painting Contest at Noble Knight Games!
---
Navigation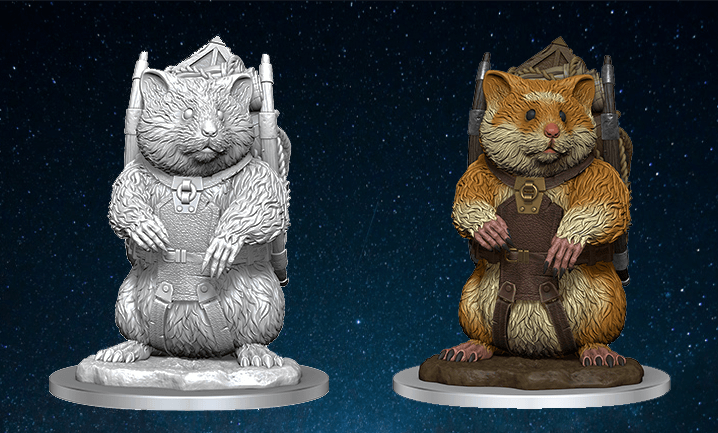 ---
The Mini
Many of you may be familiar with the Giant Space Hamsters from the Wildspace of  Dungeons & Dragons' Spelljammer setting. Or perhaps you have run into Minsc and Boo in Baldur's Gate. If not, all you really need to know is, they're hamsters. From space. And they're giant!
Now, it's time to paint your own adorably fierce little giant and send them on an adventure.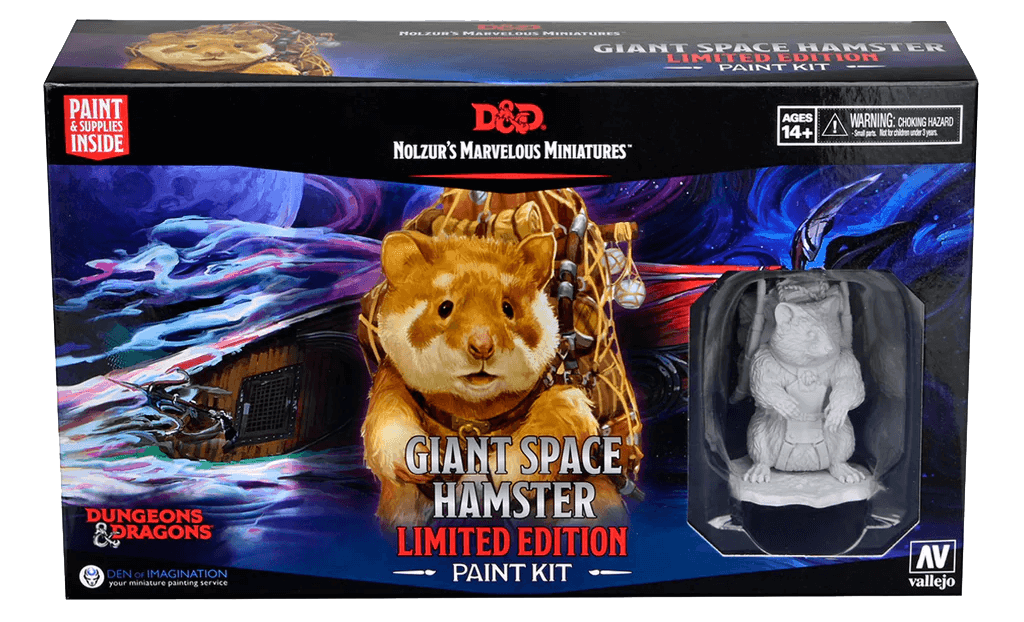 Price
These limited edition Space Hamsters are only available in the WizKids Paint Night Kits. They are priced at $17.95 each and are in-store only at this time. BUT – if you are at the shop purchasing this kit for contest entry purposes, mention it to the store team and receive an extra 10% off!
Each kit contains the licensed D&D Giant Space Hamster miniature, two paint brushes, ten Vallejo paints, and more. There's even a paint-along instructional video to make learning a breeze. (You are not required to use only the included paints to enter the contest.)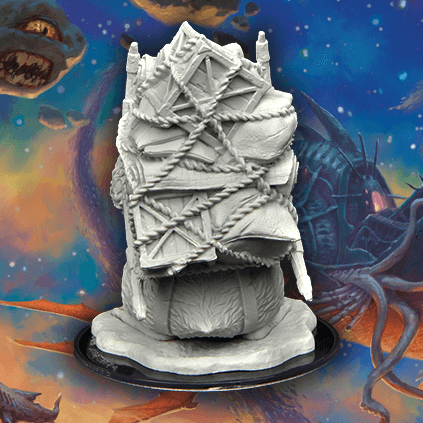 Painters of all skill levels are welcomed to enter this contest, even if it's your first time painting! In addition to the instructional video, we recommend dropping by on Mini Painting Day to learn the ropes and have some fun with your first masterpiece.  Or maybe you're already an experienced painter. Well, show it off! We love seeing what you do.
Don't want to paint? You can still be a part of this contest, by voting for your favorite entry during the public voting dates. Which one do you enjoy the most? The winner will be crowned Crowd Favorite of the competition!
[ Back to Top ]
---
Rules, Categories, & Prizes
All submissions are eligible for Crowd Favorite, and this can be awarded to a submission that has already won one of the other categories. Inversely, submissions cannot win a combination of 1st, 2nd, or Most Creative.
Our judges score entries on:
Color Use
Clean Lines
Highlighting/Shading
Originality
Overall Look
Basing
All of these metrics are weighted equally with a maximum of 5 points possible, except for Basing, which has a maximum of 3 points and used primarily for tie-breaking purposes. A future contest will focus on basing and dioramas, but it is not this one. For this contest, the primary judging will be dedicated to that sweet chubby little Space Hamster!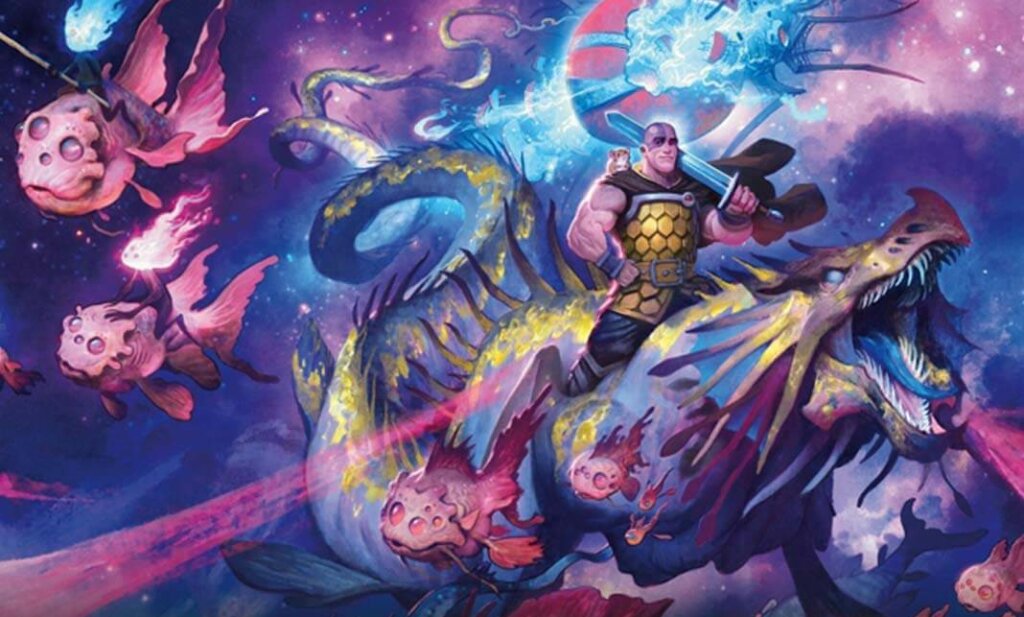 Contest Rules
You may use ANY paints you wish, not only those within the kit.
Basing is allowed, but within the range of an 80mm round base at maximum.
Plinths etc. can also be used but must remain under 8 inches in height to allow for display in our case.
Categories & Prizes
Additional prizes may be awarded on top of the following awards:
1  First Place
2  Second Place
3  Most Creative
4  Better to be Lucky – back by popular demand!
5  Crowd Favorite
Our judges get out of the way and let the masses choose their favorite! Everyone who visits our brick-and-mortar store during the voting period can look at the display full of submissions and vote for the one that they like the most. Whichever mini receives the most votes is the winner!  Remember, you can win Crowd Favorite on top of any of the other categories.
Prize: $20 Store Credit

[ Back to Top ]
---
The Timeline
These are the important dates/times to know for the Giant Space Hamster miniature painting contest.
1  Submission Deadline
Drop off your mini at our brick-and-mortar store by closing time on Sunday May 28.  The minis will be on display in-store for viewing and voting before we open the next day!
2  The Voting Dates
Voting begins Monday May 29. Voting ends Sunday June 4. Stop in to the store during this time to catch a glimpse of the gorgeous submissions and to cast your vote for Crowd Favorite!
3  Winners Announced
On Monday June 5, we will tally the votes. We will then announce the winners in an article here on the Gaming Hall website, as well as on social media platforms! Miniatures will remain on display for another week following this announcement, in order to show off the winners!
4  Pick Up Your Mini
On Monday June 12, all miniatures will be out of the display and ready for you to pick up after that date. We will hold them safely in the office for you.
Note: Please pick your mini up within a month of the above date or it becomes forfeit.
[ Back to Top ]
---
Miniature Painting Day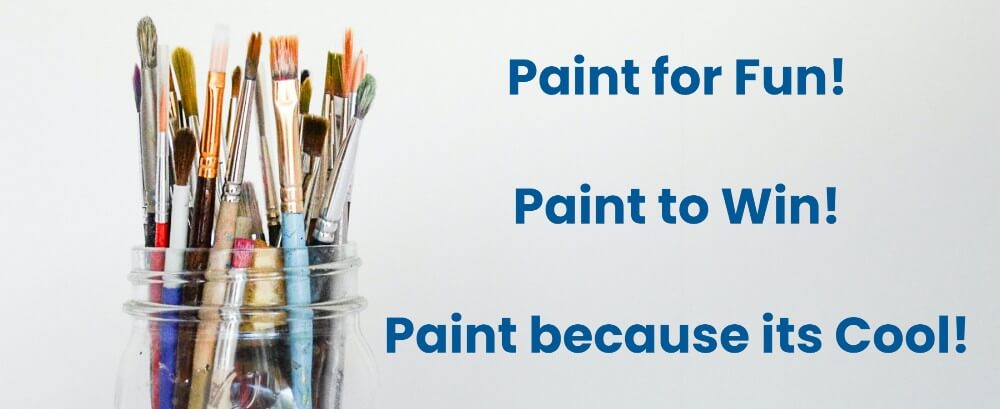 Did you know that Noble Knight Games hosts a FREE Miniature Painting Day with the Madison Miniature Painters every month? All are welcome to this family friendly paint-and-take. Paint our freebies with supplied paints and tools, or bring your own project and supplies and show off your work in progress.
It's a great day to try painting for the first time, paint your entry for the contest, (or anything you like!)  and learn from other area miniature painters, or teach them a trick or two! Or, just come hang out and chat with others who love the hobby.
When: First Saturday of each month at 1:00. (Upcoming dates – May 6th, June 3)
We hope to see you there, and don't forget to submit your entries to the contest!
[ Back to Top ]
---