Happy Star Wars Day!  May the Fourth be with you.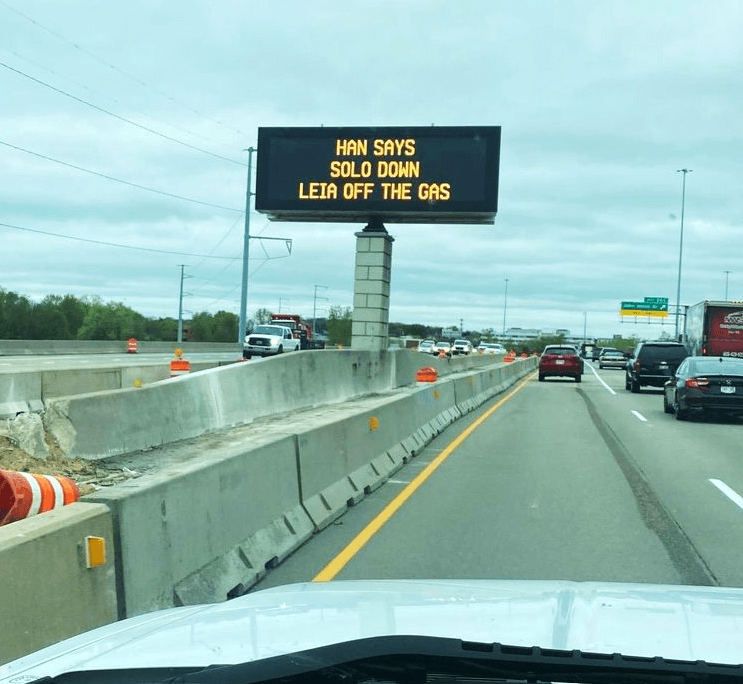 We spotted a lot of love out there today for the one of the world's most favorite nerd-holidays.
One of our management spotted this sign on the highway on their way in. This is the May.
Customers and staff alike today were seen bedecked in their favorite Star Wars shirts, hats, and facemasks. What a time to be alive.
The Force is strong with this team…
We recently acquired a collection of pre-owned, high quality lightsabers. You know, the kind that are modeled after the ones in the films and make noises when you swing them and hit stuff? The good kind. Well, and the Dark Side kind, too.
Sword Quality Assurance is Key
We care about our customers. And about Star Wars. Naturally, we had to test all the sabers to make sure they were fully armed and operational battle stations. Err, Light Sabers. We couldn't in good conscience put them up for sale if we weren't sure. Our honor practically demanded that we fill them up with batteries and swing them around a bit. It was our duty, really. We did it for you. (Ok, we did it for ourselves, too.)
Where did these come from?
Well, Kyber crystals were used by Jedi to craft light sabers thousands of years before the Republic, dating back to… Oh you mean where did we get them?  This collection of lightsabers includes models by both Hasbro and Master Replicas. We purchased them as part of our Buy-Sell-Trade program, the real foundation of what makes Noble Knight Games unique.
Lots of people know us as a place that will purchase board games, magic cards, RPGs and war games. We also buy miniatures, accessories, novels, collectibles like these, and more. That's part of how we came to have the world's largest selection of games. Those seeking the new and popular to the out of print, rare, hard to find, and the strange, can turn to us as a source. We've got it all – you never know what you'll find! Peruse the Recent Arrivals Collection to see our constant flow of incoming items you won't find at other stores.
Like Star Wars Games?
Celebrate your fandom and embark on an epic journey in Star Wars: Armada, Star Wars: X-Wing and Star Wars: Legion for some classic tabletop action!
Star Wars Day, and any day, are good days for a Star Wars game.
Have games or items you want to sell?
We'll find loving new homes for your gently loved games, books, miniatures, and more. We'll even cover the shipping for you if you aren't in our area. Let us save you time and put cash or store credit in your pocket! See more about our Trade program
Join us…
If it looks like its fun to work here, that's because it is. Noble Knight Games has grown steadily since 1997, and we are often hiring for a variety of positions within our company. If you live in the Madison, Wisconsin area and want to work with games of all sorts, check our Careers page for more information.