Test your mettle in the Streets of New Capenna Store Championship at Noble Knight Games!
Jump to:
---
When & Where & How
Saturday July 9th @ 12:00pm. Please show up at least 20 minutes early for the event as it will start right on time!
The Streets of New Capenna Store Championship takes place in our Gaming Hall at the Noble Knight Games castle

How the Event will work
As always, you'll keep everything you draft!
Format: Chaos Sealed (50 player limit)
Sealed draft (6 packs)

Magic Origins

Core 2021

Strixhaven

Throne of Eldraine

Midnight Hunt

Streets of new Capenna
After the initial draft, the Top 8 players will have a final—and free!—draft to determine the Store Champion!
Top 8 Draft (3 packs)

Modern Horizons 2
Double Feature
Streets of New Capenna
An additional draft will be held for those who do not place in the Top 8 ($17 entry, Chaos Draft, like our normal Friday Night Magic)
If you're new to drafting with us, you're welcome to join! Let one of our judges know and they will happily run you through it.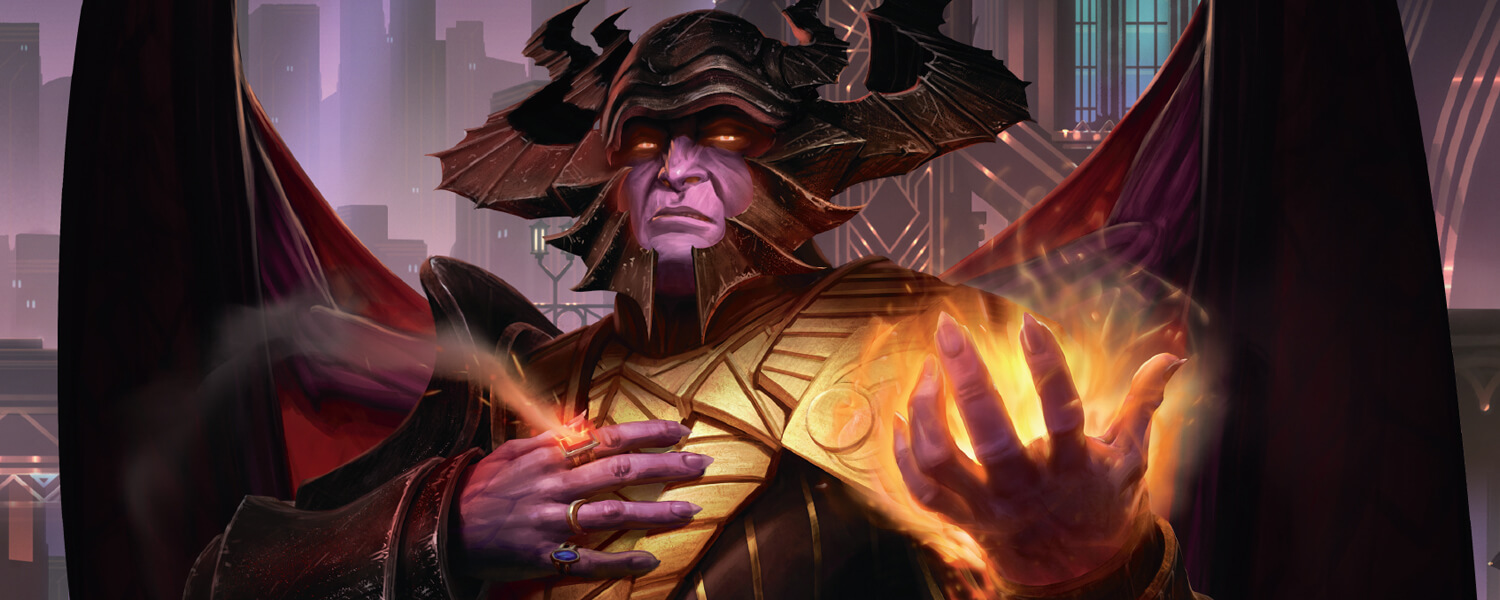 Registration
Registration and event entry fee payments will take place on-site at Noble Knight Games on the day of the event, first come first served, and a maximum of 50 players. We are not accepting advance registration at this time. Please arrive at least 10-15 minutes prior to the start of the event to register, pick your packs, and get settled in. The draft will begin promptly at noon!
[ Back to Top ]
---
Entry Fee
The entry fee for the Streets of New Capenna Store Championship is $30 per player. (50 player limit)
[ Back to Top ]
---
Prizes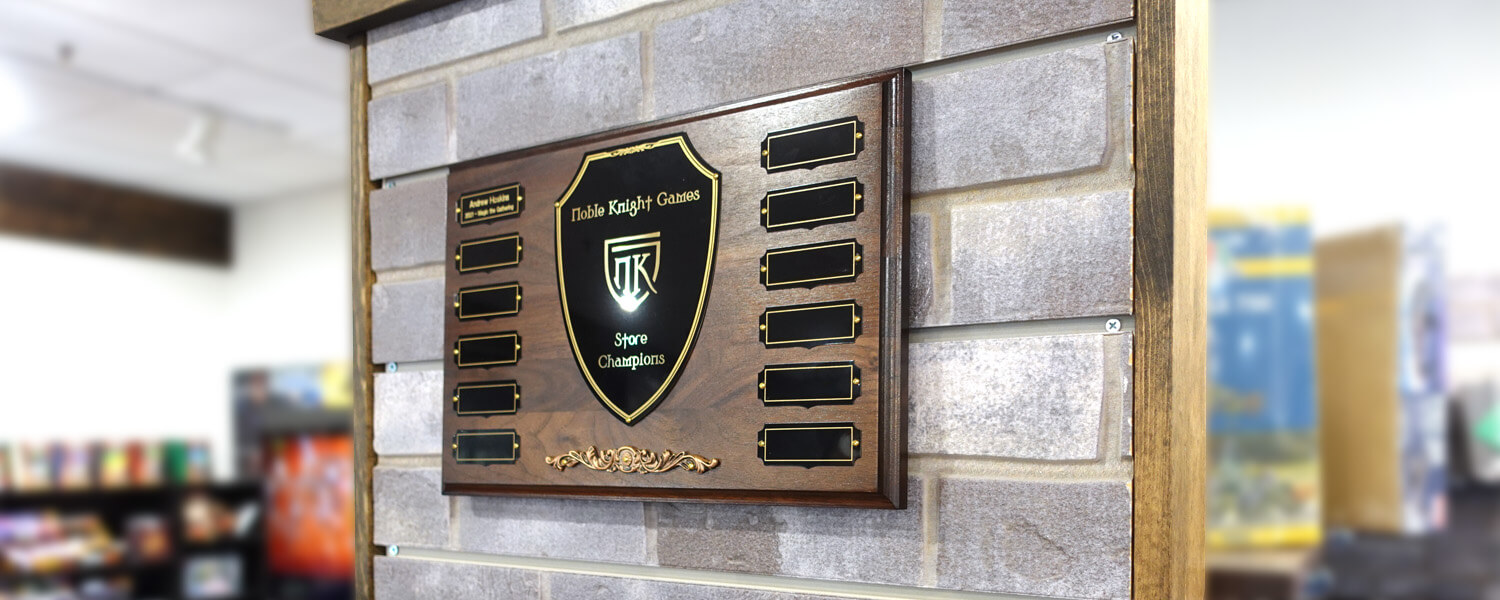 The first 32 players to register in-store will receive a special participation promo.
The Top 8 players in the first event will draft for free in Top 8 showdown and receive a Top 8 promo card.
1st Place Champion – $60 Store Credit, Champion promo card, and their name on our plaque!
2nd Place Champion – $30 Store Credit
3rd & 4th Place Champions – $10 Store Credit each
5  Promo packs distributed as door prizes for sealed event
1 Pack per round win (both events)
[ Back to Top ]
---
Promos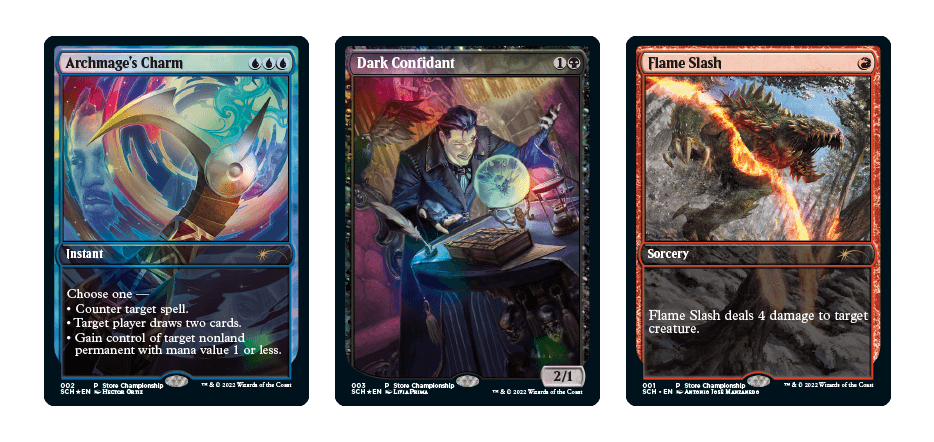 Store Champion receives Dark Confidant
Top 8 players receive Archmage's Charm
First 32 players to register receive Flame Slash
[ Back to Top ]
---
What to bring to our Magic Events
Important! DCI numbers are no longer used for Wizards of the Coast organized play for Magic the Gathering. Players now register for events through the use of the Magic Companion App. This app provides registration tools, direct round pairings, results, and more. Use of this app is not 100% required, but is strongly recommended for a smooth Magic experience due to the new program for administering Magic events.
A code will be shown on the TV in our Gaming Hall prior to each event. Enter this code in the App to enlist yourself in the event roster.  If you do not have access to use of this app, please let our judges know so they can add you manually.
What else to bring? Noble Knight Games will provide land cards for sealed and draft events. We suggest bringing a spin-down die or life counter, tokens, play mat, sleeves, and a deck box for your newly drafted cards. These are not required, but are suggested for ease of play and protection of your cards.  If you need any of these, our storefront team will be happy to help you pick some out. We have plenty of options!
[ Back to Top ]
---